This contest has ended and the winner can be found here-
http://kamsnaps.blogspot.com/2010/05/winner-of-our-going-to-dogs-giveaway.html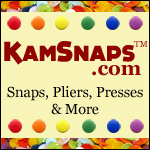 KAMsnaps
is offering one heck of a giveaway! I mean there's jewelry, there's handbags, and there's snaps! What more could you ask for right?
The prizes are truly drool worthy! I mean, there's a $25 GC for
KAMsnaps
and that right there is enough to draw me in! Some of the pieces have minor flaws but they're still GORGEOUS!
Then you have a
Hello Kitty Bag by Victoria Couture
Isn't that bag just ADORABLE???
There's more though!! There's also a
Disney Couture Noir Snow White Tote Bag by Loop NYC
*On front, small pieces of tissue embedded in print
Next up:
Betseyville Pop Art Dome Bag by Betsy Johnson
* Small tear on clear film at bottom of bag
We also have a
Cutie Kewpie Ribbon Necklace by Leandra Holder
and...
Lee Riot Butterfly Laminate Necklace by Steven Shein
* The border edging appears black in the picture but is actually a dark brown.
and even better...
* * Another designer prize, worth at least $50, will be added for every 500 entries!!
The mandatory entry is
to visit KAMsnaps and then post a comment on the contest post stating your favorite SHAPED snap.

For more complete information on the contest, please visit the KAMsnaps blog.

GOOD LUCK!